When creating this bottle, it was to remind people every time they take a sip of water to refocus and channel their energy into their own consciousness and become aware of the manifestations each crystal represents of love, centering, positivity and balance.
Yogini, Sanskrit Term, pronounced as yow.gee.nee mean ing: A master practitioner of Tantra and Yoga, as well as a formal term of respect for Hindu or Buddhist spiritual teachers.
The motivation to create the crystal water bottle comes from personal use of crystals and wanting to share its benefits. So often we get caught up in negativity, focus our energy on others and forget to take simple steps to eliminate that feeling. Our planet we live in provides us with resources which are beautiful and work in mysterio us ways.

Rose Quartz Water bottle:

Vibrates with the energy of unconditional Love. It is known to open the heart chakra to all forms of Love
Rose quartz wards of negativity and when carried by a person, helps to replace negative emotions with positive, returning the wearer to that place of pure love and balance. It's a powerful harmonizer of the bodies subtle energies, restoring trust and harmony in relationships and encourages unconditional love for yourself and others.

Amethyst crystal Water bottle:

Keeping an Amethyst crystal is one of the best ways to ensure the crown chakra and third-eye chakra are always inflow. It helps relieve stress, strain, balance mood swings, soothe irritability, dispel anxiety, anger and dissolve negativity.
It also helps in cleansing of negative thoughts aids in grounding, tranquility and calmness. Also, aides in creative thinking and spiritual awareness.

Rose Quartz Water bottle:

Vibrates with the energy of unconditional Love. It is known to open the heart chakra to all forms of Love
Rose quartz wards of negativity and when carried by a person, helps to replace negative emotions with positive, returning the wearer to that place of pure love and balance. It's a powerful harmonizer of the bodies subtle energies, restoring trust and harmony in relationships and encourages unconditional love for yourself and others.

Amethyst crystal Water bottle:

Keeping an Amethyst crystal is one of the best ways to ensure the crown chakra and third-eye chakra are always inflow. It helps relieve stress, strain, balance mood swings, soothe irritability, dispel anxiety, anger and dissolve negativity.
It also helps in cleansing of negative thoughts aids in grounding, tranquility and calmness. Also, aides in creative thinking and spiritual awareness.

Handcrafted, lead-free, borosilicate reusable glass bottle.
Holds 18.6 fluid ounces.
3"Dia. x 9.5"T.
Silicone sleeve shown in pictures is not included. 
Available in Rose Quartz or Amethyst
Crystals shown in the images and what is received may have variations as these are natural stones, each stone has its own unique characteristics. 

Once the crystal is removed the remaining pieces of the bottle are dishwasher safe in the top drawer.  
To clean the crystal, use table salt to gently rub over your crystal or submerge in salt water to absorb unwanted energy and pat dry
3

Bottles/day

On average a person consumes
1095

Bottles/year

On average a person consumes
Why Choose the Yogini bottle
Promotes Positivity

Raw Crystals

Energizer

Consciously created

Balancer
Product Video
degradable packaging video and how to take your Yogini apart
Very special water bottle
I love having my water charged with the beautiful rose quartz crystal. The crystal is so much bigger than I had expected! I also appreciate the company's dedication to sustainability!
Beautiful 🤩
I am extremely pleased with this purchase! I am often disappointed with purchases from Facebook ads, but I'm happy to say that I was pleasantly and overwhelmingly surprised with the quality of this crystal bottle. The packaging was beautiful and sustainable and very eco-friendly. And the bottle itself is not only gorgeous but it's comfortable to hold in my hands and seems to be leakproof which has been an issue with some of these water bottles. I can't recommend it enough!
Love this
Not only is the water bottle beautiful The packaging is just as beautiful with the rosemary in it and the card that you plant. you can tell this company really cares and I love giving my business to a business such as this
Love my water bottle!
Beautiful water bottle and such a fun gift!I also love the basil gift tags. Makes every gift extra special:)
Hi Chloe,
Thank you for taking the time to write a review. I am so happy to hear you love your water bottle. Wishing you all the love and positivity this new year.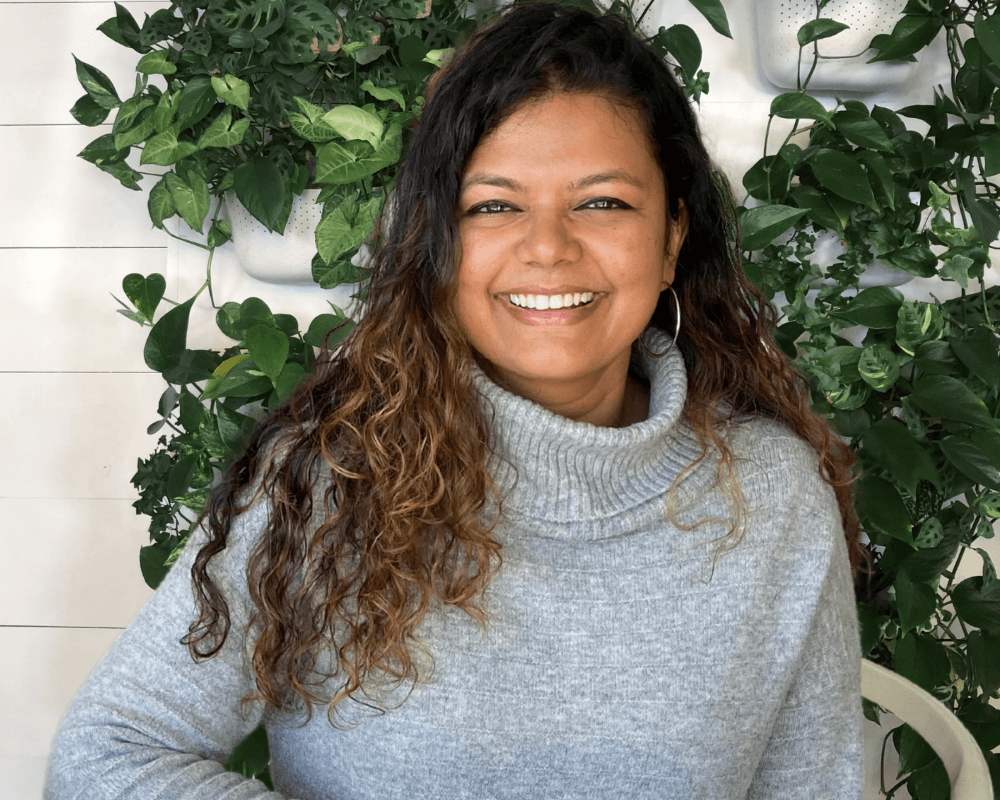 A Note From The Founder
Sonam S.
Footprint is all about choosing Life over Lifestyle, while still being fashion forward. I want you to feel proud just as I do every time I use any of my products. I know you will love The Yogini, just as much as I do.
Faq's
frequently asked questionS
Where is my order shipping from and by when will I receive it?

All orders are packaged by ourselves and are shipped out straight from Southern California within 48 hours of placing the order.

Do you offer expedited shipping?

Yes we offer priority shipping, which you can choose at checkout.

Are your products sustainably produced?

Yes, from design concept to final product, every step of the manufacturing and production process is thoughtfully managed and considered. We strive to reduce our environmental impact throughout every stage and replace one-time use products.

How do I maintain / take care of my crystal water bottle?

Treat your bottle just as you would any other glass product in your home. Our glass is dishwasher safe once you remove the crystal from the bottom. If you do need to wash your crystal, you may do so by using some table salt and water and gently handscrub it. It can also be recharged with moon light or by soaking in a bowl of salt water.

What is your warranty policy?

We have a standard 30-day return policy, as long as the bottle is not used, you may return it for a refund.